Under The Sea Set Rental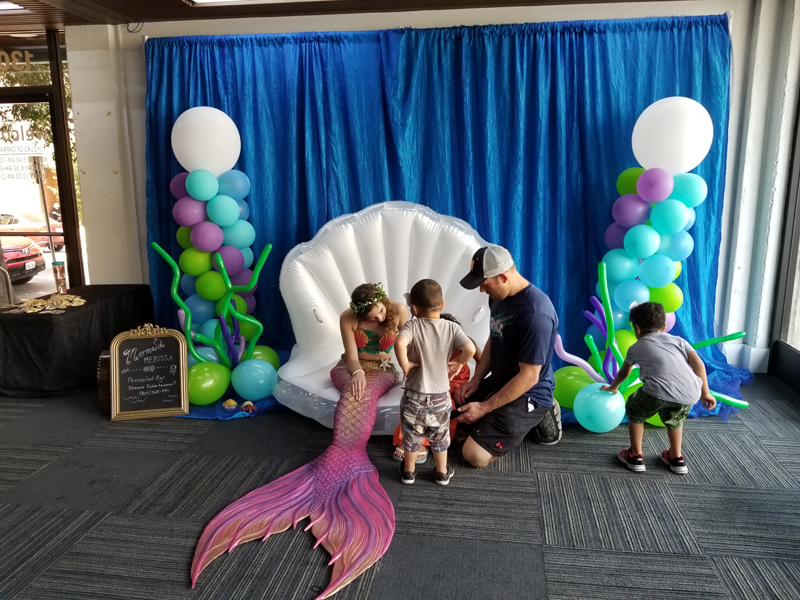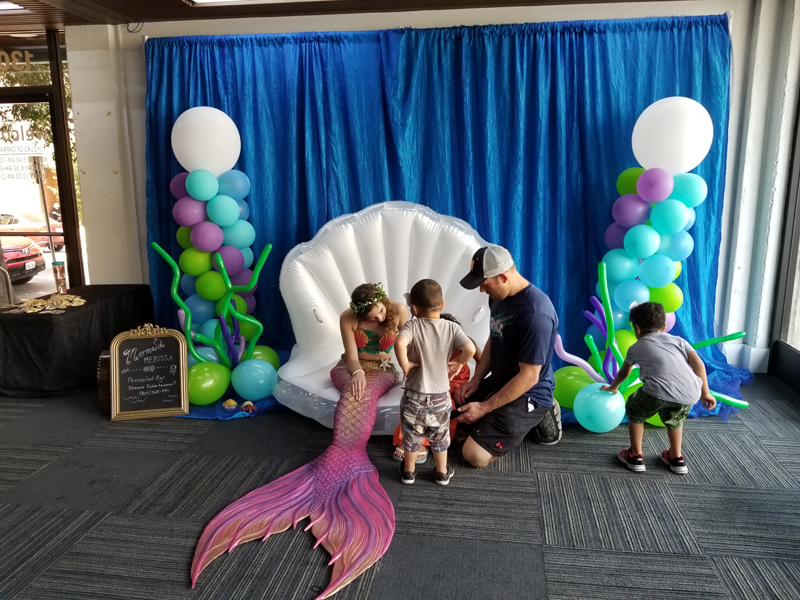 Under The Sea Set Rental
Bring the whimsy of being under the sea to your party with our seaside set rental!
This under the sea mermaid themed rental includes the following items to brighten up your home, school, or business with a cheerful under the sea touch:
(1) Inflatable White Shell Throne Chair
(2) 6' Balloon Columns Topped with Giant Balloon "Pearls" - A $230 value to keep!
(2) Balloon "Seaweed" Sculptures - A $70 value to keep!
(1) Blue Glitter Backdrop
(2) Backdrop Uprights with Drapery Hanging Rod
SAVE $75 on this upgrade option when you add it on to any of our swimming mermaid parties!
Space Required:
This set has a footprint of 12' deep by 18' wide when set to its widest setting. The backdrop is adjustable between 6'-11' tall.
What Do I Get to Keep?
You get to keep the (2) balloon column sculptures and (2) balloon seaweed sculptures. All other items are rentals only and are NOT "purchased" or "kept."
How Much Does It Cost for Delivery? What do you need for set up or tear down time?
This option is available in Ventura County and Los Angeles only and is suitable for indoor locations only (so that it doesn't blow down in wind). Our price includes 1 hour of onsite set up before your party, 3 hours of party time, and 30-50 minutes of onsite tear down at the end of your party time.
If you are NOT adding this on as part of a mermaid party then a $1 per round trip mile delivery charge to and from Simi Valley, CA applies PLUS a $75 set up charge on site.
Where Can I Put It?
Due to the backdrop and air-inflated nature of the balloon sculptures, this rental is only suited for indoor locations such as living rooms, auditoriums, school gyms, classrooms, or employee lunch rooms. The backdrop can "catch" in the wind if it is set up anywhere but inside.
Can I customize the Balloon Colors?
Yes, based on stock on hand. The backdrop and shell only come in the colors seen in the photo.
Aren't Balloons Bad For The Environment?
No, you are thinking of the mylar (e.g. shiny aluminum-looking) helium-inflated balloons. These eco-friendly balloons are all sustain-ably grown natural latex balloons which can last up to 5 days in your home but do biodegrade fully in to the earth when they are popped and trashed.
How Long Do The Balloons Last?
Up to five days.
Where is this Rental Available?
Ventura County and Los Angeles County.
Is the Mermaid Included?
No, the mermaid and people in the photos are NOT included in this rental. Mermaids are available in either walking or finned versions separately.
How Far In Advance Do I Need to Reserve This?
We recommend at least 3 weeks in advance for weekday parties and at least one month in advance for weekend parties.