Halloween Party Entertainment for Children and Adults
Are you throwing a Halloween party and the thought of a horde of sugar-high children descending on your beautiful home is truly scary? Are you concerned that the holiday has lost its sense of "spooky" and has become too "scary?" If so, you need us and our extraordinary cast of Good Witch characters.
Our Halloween party witches offer Halloween party options such as ghoulish games, frightfully good face painting, glimmering glitter tattoos, and a super dose of Halloween party cheer all while helping to channel the energy of your horrifyingly hyper haunters in a happy and engaging way!
CAPACITY
Each of our land characters can work with a party group size of up to 12 children maximum. If you are expecting a larger group of children please add on additional characters or consider having a balloon artist, glitter tattoo artist, or face painter character instead.
Scare Actors, Zombies, and Halloween Haunt Atmosphere Characters
Sideshow Suicide Show
Clowns, horror, and sideshow freak classics combine in this stage show of favorite magic and creepy carnival sideshow classics! The show features a variety of unsettling acts such as a razor blade swallow, balloon swallow, the Human Blockhead, mental floss, as well as some magic and mind reading! Price based on location and duration. Show is based in Los Angeles.
Haunted House Characters to Rent
Give your guests a scare with our walking zombies and atmosphere "haunt" characters. The come from some of your favorite haunted mazes and theme park Halloween attractions and are trained in character presentation, mannerisms, speech, and how to scare your guests without making physical contact.
Film production, television, commercial, and hoard bulk character creature rental rates available with both union and non-union zombie and Halloween themed actors.
Choose from:

Broken Doll

Zombie (generic)

Zombie Singer

Bloody Prom Princess

Demented Fortune Teller

Mad Scientist

Evil Clown

Headless Horseman

Horror Harlequin Clown (Female)

Female Vampire (adult)

Preschool Vampire Girl (children's)

Bride of Frankenstein

Ghost Girl

Comedy Ghost Hunter

Pricing starts at $250 per character.
Zombie Package Options
Singing Zombie Telegram
1 specialty zombie singer

15 minutes of live songs presented to your special person or office by the zombie

5 minutes of photo time for your guests to take photos with the zombie to capture the memory

Available in the Valley / Los Angeles region only
Corporate Zombie Makeover
12 full zombie outfits for your adult guests (shirts, pants, belts, dresses - you supply your own shoes)

2 zombie makeover makeup artists

2 zombie makeover makeup station rentals

1 zombie changing tent rental

1 zombie wardrobe rack rental

20 minutes "Creature Class" on zombie and creature movement and poses

1 black and gray zombie selfie station decorated photo backdrop rental (no camera included)

Available in Ventura County and Los Angeles - other locations will incur additional travel costs
Snake Contortionist
A beauty with a boa - and it's real. Will it choke the life out of this exquisite artist or just wrap itself around your heart? This snake charmer and her slithering pal perform atmospheric contortion and roaming meet and greet where guests can pose with the snake and its handler.
Price based on location, date, and number of sets required. Pricing starts at $1,100 per event.
Fortune Tellers
Fortune tellers require a quieter performance space so that guests can hear them (e.g. please do not place them next to speakers or live music).
All fortune tellers come in either black clothing, gypsy, or our Good Witch costuming based on your request. They also bring scarves to decorate their table with.
Spooktacular fortune telling for all ages presented by one of our very own Good Witch characters with our stunning seasonally themed cards! If you are expecting a variety of ages or would like to have your fortune delivered with a dose of seasonal Halloween story telling then choose this option!
Live tarot card readings focusing on the positive in the future of your guests. Each reading takes approximately 6.5 minutes and offer insight in to the past, present, and future relating to goals, hopes, or fears. Couples readings are also available!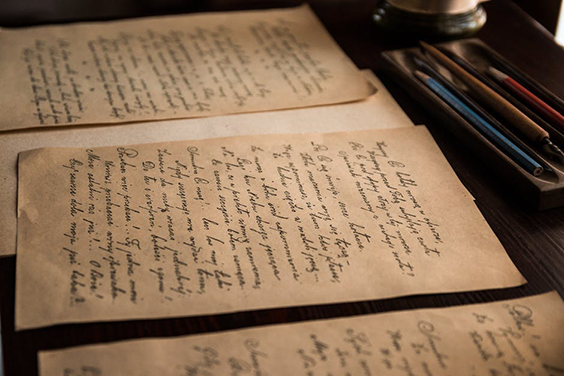 Live handwriting analysis for your guests focusing on the positive in their hidden talents and traits! Each reading takes approximately 8 minutes and offers inside to both a person's inner personality and what they can do to develop their ambitions.
Norse Runes Interpretation
This services helps guests to find answers using the wisdom of the ancients and our connection to the Earth's powerful history. Each reading takes approximately 3 minutes and focuses on the future based on your guests'questions.
Airbrush Tattoo Artistry
Air brush tattoo art so good that you would swear that it's real. Your guests can walk up to this talented artist for custom designs fitting their personality - all without the pain of needles or the regret of changing their minds later… Pricing starts at $500 per event based on location and duration. Art is NOT permanent.
Before and After:
Airbrush Tattoo Art Samples:
Zombie Mermaids, Sirens, Sea Monsters, and Evil Mermaid Characters for Haunted Houses
Evil lurks beneath the surface of the water as our decrepitly delightful cast of Halloween water entertainers take over your swimming pool at your next haunted house, haunted harbor, or dark carnival event.
What are these mermaids like?
Evil mermaids wear our normal assortment of costumes but the way that they look and behave is different. Instead of glamour makeup and pretty Hollywood style of hair they come with things like messy braids, wild afros (based on performer's race), and messy hair. Their makeup, instead of being pretty, is darker, smudged, and more Gothic. Their mannerisms are also decidedly altered with reptilian-style movements, doing things like stalking guests on deck, similar to crocodiles, hissing, snarling, and doing animalistic noise instead of speaking in English with guests.
Recommended for ages 12+ and extremely popular with adults, these evil mermaids and mermaid zombie characters take a Halloween party to a whole new level with their decidedly disturbing body movement and mannerisms. Call us at (805) 328-4911 to reserve your set of sirens today.
Are you having a harvest festival or Halloween carnival? Offer your guests a shimmering glitter tattoo service with one of our many glitter tattoo options to choose from.
Locations: Southern California including Los Angeles (inc. Hollywood, Pasadena, Glendale, Burbank, Porter Ranch, Northridge, Culver City, Woodland Hills, West Hills, Granada Hills, La Canada Flintridge, Silverlake, North Hollywood, West Hollywood, Bel Aire, Beverly Hills, Calabasas, Encino, Hidden Hills, North Hills, Canoga Park, Agoura Hills, Malibu, Pacific Palisades, Santa Monica, West Side, Westwood, Brentwood, Hancock Park, are local areas), and Ventura County (inc. Moorpark, Simi Valley, Camarillo, Thousand Oaks, Ojai, Westlake Village, Oak Park, Ventura, Oxnard, Port Hueneme, Fillmore, Piru, Saticoy). Orange County and Northern California locations available with advanced notice.